Major Activities of Committees
Sales and Marketing Committee
Various researches and practices are performed to improve publishing distribution and to make an idea into a reality, "You can get a book you want.". Development of a database of publishing information is indispensable to improve Japanese publishing distribution, which should become an industry standard. The Japanese Publishing Data Center (JPO) was founded in April 2002 for the purpose of the improvement and utilization of the database.
Flexible Operation of RPM
In March 2001, the Japan Fair Trade Commission concluded that the Resale Price Maintenance system should be retained for the time being. Publication industries are aiming at the improvement of the distribution system of publications with the flexible operation of the RPM system.
Discount Thank-you Sale on the Internet
Discount thank-you sales on the internet by participating publishing companies are held roughly twice a year. Rare books and hard-to-find books, are sold at discounted prices as an exception of the RPM system.
Japanese Publishing Data Center
The Japanese Publishing Data Center (JPDC) was founded through the cooperation of publishing companies, wholesalers, bookstores, and libraries in April 2002. JPDC tackles the construction of the database accepted as a standard in the publishing world In Japan.
Training Committee
We assist publishing companies in their employee training activities and offer the latest information on various innovative issues that occur in the ever-changing publishing environment. We also actively promote communication between publishing companies.
Freshmen's Seminar
Two day training seminar for the new employees of publishing companies is carried out in April of each year. Lectures are given about editing, sales, bookstore marketing, etc., and a tour to a wholesaler is also included.
Other Training Activities
A copyright seminar for beginners is held in summer and a book production seminar in autumn. In addition, a tax accounting session is held in February and a visit to a printing company is also carried out in July of each year. Other sessions and seminars that might be useful and helpful for the publishers are arranged periodically.
Publishing of Texts
JBPA have published various texts that have become a reference for everyday business of a publishing company. Please refer to "a publication list" for details.
Intellectual Property Committee
By giving proper respect to the intellectual activity of an author engaged in the creation of work as a right, new creations can be encouraged. Moreover, a publishing company itself assists in the creation of a new work, by performing the intellectual activity of introducing a publication through initiative and responsibility.
Japan Reprographic Rights Center
The Japan Reprographic Rights Center (JRRC) was established in 1991 as a Reprographic Rights Organization (RRO) for photocopying of publications. JRRC have signed contracts with over 3,000 photocopy user companies, universities, etc.
Review of the Copyright Act
We participate in the committee for re-examination of the Copyright Act in the Copyright Subcommittee, Cultural Council of the Agency for Cultural Affairs as rightsholders reflecting publishers' interests. We also participate in various copyright related organizations and strive for the respect of copyright and proper utilization of copyrighted works.
Model Contract of Publishing Agreement
We publish a model contract of a publishing agreement and aim at improving knowledge and understanding of publication contracts. The model contract is available on the JBPA website.  
Publishing and Copyright Consultation
Experienced counselors are engaged to answer any questions concerning copyright and legal issues in publishing. This service is available to both members and non-members.
Book Reading Promotion Committee
Propagation of the Reading Habit
The "Law on the Promotion of Reading Activities for Children" was enforced in December 2001, and based on this, we carry out various reading promotion activities not only for the youth, but also for all generations.
Tokyo International Book Fair
More than 700 publishers from 30 countries and regions of the world join the TIBF every year. The festival period will be moved to July 7-10 from April in 2005.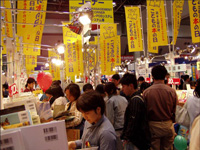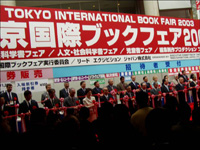 Conference on Promotion of Reading for Children

In succession to the results achieved with the Executive Committee, which promoted "Children's Reading Year 2000", 14 organizations aim for the promotion of reading for children and conduct activities to support reading habits of children who lead the next generation.
Japan Book Design Exhibition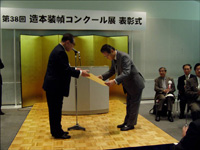 Through the co-sponsorship of The Japan Federation of Printing Industries, every year we commend excellent book designs. Japanese book design is also evaluated internationally. All nominated books are exhibited in the Tokyo International Book Fair, and the winning works are nominated to the "Most Beautiful Book in the World" competition held in German Leipzig.
Library Committee
Libraries are indispensable partners for the publishing industry. We maintain close contacts with public, university, school and specialized librariesto promote joy of reading. We also conducts studies on library uses to improve the library services and to protect our rights and interests in library uses.
Substantiation of school library book expenses
We encourage it in all quarter that the self-governing body should allocate the local tax grants, which aim for maintenance and expense of school libraries, to a budget for its original purpose.
All Japan Library Conference
In cooperation with the Japan Library Association, an exhibition of the books that we encourage libraries to include in their collections is organized at the All Japan Library Conference held in October every year.
International Committee
Through the development of digitization and networking, the relations with overseas publishing circles have become even closer. JBPA effectively introduces the present status of the publishing industry in Japan through its international activities. JBPA exchanges information with various publishing associations concerning common problems, and conducts research and studies in order to find solutions to such problems in cooperation with each associations.
International Publishers Association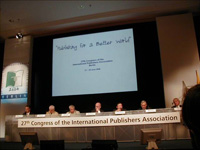 Representing the country of Japan, JBPA is a member of the International Publishers Association (IPA), which consists of publishing associations from 70 nations across the globe. As a part of its activities, the 4th International Copyright Symposium was held in Tokyo in 1998.
Asian Pacific Publishing Association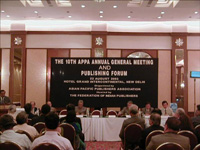 JBPA played a majorl role in establishing the Asian Pacific Publishers Association (APPA). APPA comprises 15 publishers associations from Asia and the Pacific region, and annually holds the Asian Pacific Publishing Forum, which confers the APPA Publishing Awards, in cooperation with the affiliated countries.
Freedom to Publish Committee
Freedom of speech and expression make up the democratic basis of publishing. JBPA declares its opposing position to the law and system bringing about media regulation. Furthermore, we enact the Declaration of Publishing Ethics and advance a suitable self-imposed control for performing responsible publication activities.
Opposition to the Bills Restricting Freedom of Publishing
The Act for Protection of Computer Processed Personal Data held by Administrative Organs, The Protection-of-human-rights Bill, The Youth Detrimental Environmental Measure Organic Act, etc. are bills that possibly threat the freedom of speech, publication and the press. We express our opposition not only to publishing circles, but also to large general public opinion, and oppose any motion of the introduction of media regulation.
Council on Publishing Ethics
The Council on Publishing Ethics was established by 4 major publishing organizations in 1963, and performs self-imposed control considering the youth. In order to promote classified exhibitions at sales in bookstores, the display of a "publication zoning mark" is requested from publishing companies.
Accounting Committee
Review of publishers' accounting and taxation is conducted including consultation and seminars for the members.
Japanese Language Issues Committee
Research on revisions and reforms of the Japanese characters is conducted.
Personnel and General Affairs Committee
Research on personnel and general affairs-related matters is conducted.
Production Committee
Research and studies on production such as paper, printing, and binding are conducted.
Book Database Committee
Books in Print Online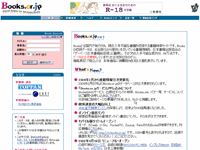 The BOOKS database, which covers "the book available in the market now", can be accessed on the Internet or by cellular phones. <www.books.or.jp>
"Bimonthly Forthcoming Books"
In order to provide information on forthcoming books, "Bimonthly Forthcoming Books" is distributed in bookstores free of charge. Readers have enjoyed it for more than 20 years, and 600,000 copies are published twice a month.

Adobe Acrobat Reader is necessary to read the PDF file.
Adobe Acrobat Reader can be downloaded here free of charge.