Organization of JBPA
Number of Member Publishers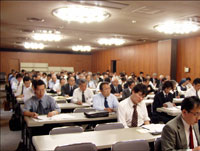 461(as of JULY 2010) 
Board Meeting, General Meeting
The Board of Directors' comprises 35 members, including the president, 5 vice presidents, executive director and 10 managing directors. General Meetings are held twice a year.
Committees
There are 13 standing committee in JBPA. Each of the committees researches and make a report to the Board of Directors periodically. Ad hoc committees are formed for specific study projects.
Sales and Marketing Committee
Production Committee
Training Committee
Publication Accounting Committee
Intellectual Property Committee
Book Reading Promotion Committee
Library Committee
International Committee
Freedom to Publish Committee
Japanese Language Issues Committee
Personal/General Affairs Committee
Electronic Publishing Committee
Book Database Committee
Working Groups
Differentiated by publication type, the 2 working groups aim to promote information exchange between members.
Branches
Branches have been established in Osaka and Kyoto for the convenience of members outside Tokyo. The number of the member in Osaka Branch is 33, and 38 in Kyoto.

Adobe Acrobat Reader is necessary to read the PDF file.
Adobe Acrobat Reader can be downloaded here free of charge.